Service site attribute and delivery network tracking with multi-dimensional analytics and intuitive visualization
The GenieAnalytics Deep TraceTM product suite automatically correlates traffic Flow data with Domain Name System (DNS) query and response streams and Genie's in-house map to identify the service site name, service type, and service provider for each traffic flow. It also discovers the delivery network for each traffic flow from the DNS data or from the Internet Routing Registry (IRR) database lookup. Deep TraceTM product suite enriches GenieAnalytics's annotated IP flow data with Content Delivery Network (CDN) and Over-the-top (OTT) service awareness in real time for more user-readable network traffic insights. With Deep TraceTM product suite, users can get previously unattainable, critical service site information that drives network operation intelligence, rather than strings of digits like IP addresses or AS numbers that are hard to grasp at a glance.
Deployment
The GenieAnalytics DeepTrace product suite includes a DNS ingestor and GIIS (Genie Internet Intelligence Service) modules that collect service site information and DNS records. These data are provided to GenieAnalytics to perform cloud service analysis that tracks CDN names and detailed service site information.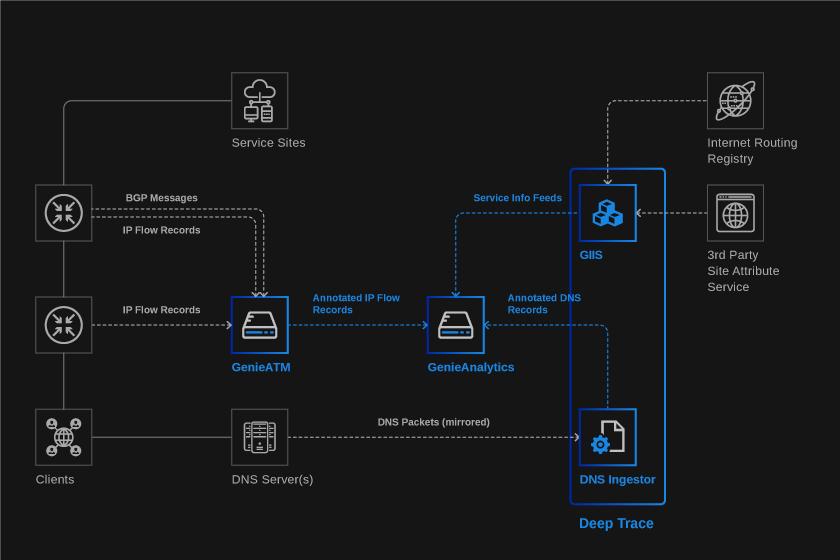 Unlock the Key Insights to Your Network Traffic
Extend GenieAnalytics' traffic flow information. Uncover not only traffic attributes like IP addresses, protocol, port, ASN, etc., but also service attribute details including service site names, site providers, site types (streaming media, mail, games, etc.) and CDN names, if any.
Every enriched information can be used as an analytics dimension, which enables GenieAnalytics' ad-hoc queries to filter or aggregate - by the names that are associated with the annotated flow records.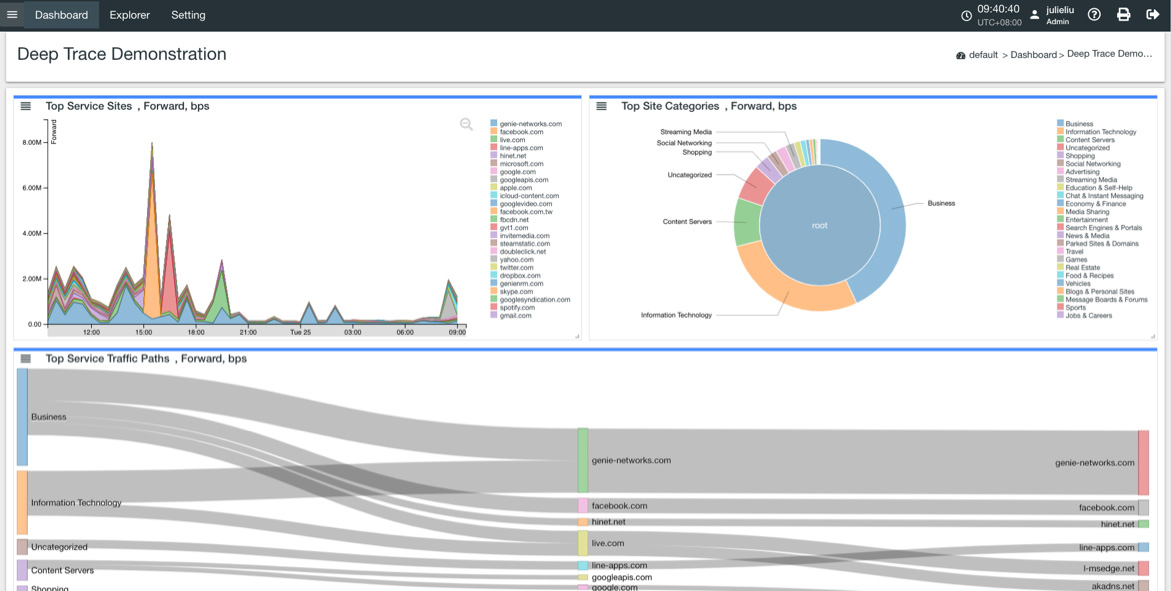 Benefits
Easily and quickly get hold of your network traffic from apparent and specific service attributes instead of cold numerical data like IP address numbers
Get critical traffic insights by uncovering:
• The types of services driving your network's traffic growth
• The services the users are accessing behind the mask of CDN
• How and through what networks the hot service traffic is delivered
Optimize your network planning, service offerings, CDN partnership, on-net caching and peering negotiation with deep traffic content intelligence