Security Analytics and OTT Traffic Visibility with GenieAnalytics
GenieAnalytics leverages annotated network traffic data to perform agile big data traffic analytics. Watch video demo to learn how network operators achieve:
In-depth, multi-dimensional analytics on network anomaly data for network forensic applications
                           
OTT and CDN Traffic visibility with embedded Deep Trace module
Intelligent big data platform for network traffic and security analytics with industry-leading performance
GenieAnalytics provides deep and powerful big-data analytic ability that delivers immediate operational insights for your business. Through multi-dimensional traffic analysis reports and rich visualizations, users are able to gain total control over their network infrastructure and plan what's right for their business operations accordingly. Based on state-of-the-art big data technology, GenieAnalytics achieves unprecedented reliability, scalability and flexibility for carrier-grade network traffic analytic and forensic applications.
Deployment
The Big Data Enhancement Solution to GenieATM
GenieAnalytics utilizes GenieATM to collect multiple data sources including flow records, BGP routing, and SNMP, from routers or switches. These heterogeneous data are correlated and annotated before being duplicated through GenieATM's embedded GA Agent Modules to the big data store for real-time or historical analysis. The analytic portal then represents these data in various forms of graphic visual representations on customizable dashboards that adapt to user's preferences to generate immediate, actionable network insights.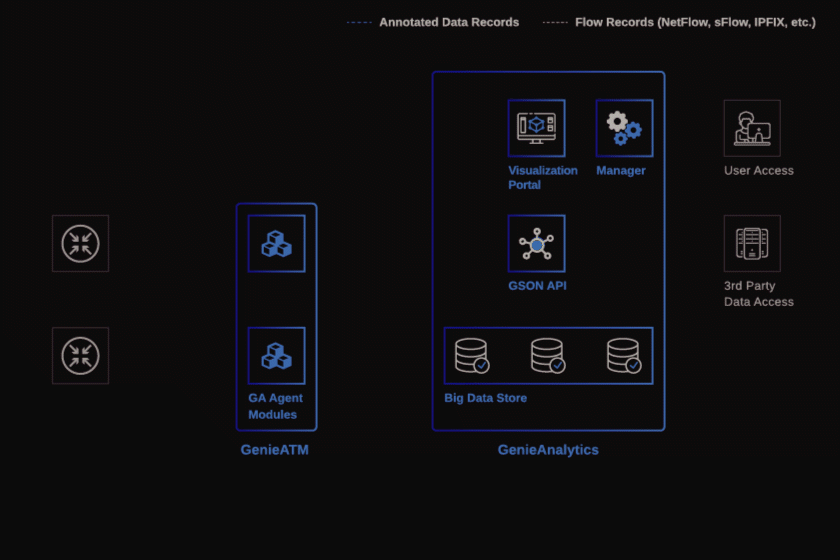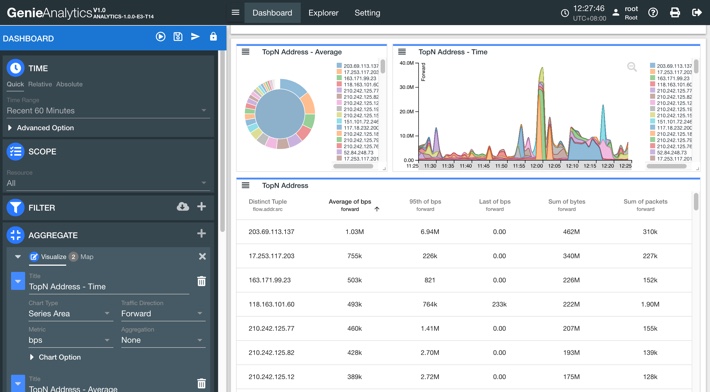 Powerful Analytics
GenieAnalytics is empowered with supreme big data ingestion and analytics performance and flexibility to provide instant, deep insights for your business.
Various data classification and aggregation keys to provide multidimensional Top-N breakdown analysis
Customizable, sequential, multiple Filters to match traffic data for exploration
Flexible analytic time settings by relative and absolute time period settings
Granular analytic resolution as low as seconds
Selectable metrics, including data rate (bps, pps, fps, etc.), sum (bytes, packets, flows, etc.), unique counts (IP, port, etc.), average, min, max, etc.
User-friendly, interactive drill-down data exploration for all analytic results
Long-term Data Storage
GenieAnalytics is embedded with a big data lake built upon a highly distributed architecture that offers unlimited scalability to store mass volume of annotated data for long-term retention (up to years).
Stores huge amount of annotated information including flow records, BGP routing, SNMP, and network instances
Provides parallel data series with different sample rate (Minute, Hour, Day) that achieves longer term storage under limited capacity
Data storage can be distributed and stored in replicas and clusters to ensure data access at all times (no SPOF)
Capacity and performance are linearly scalable by adding more replicas and clusters (storage nodes)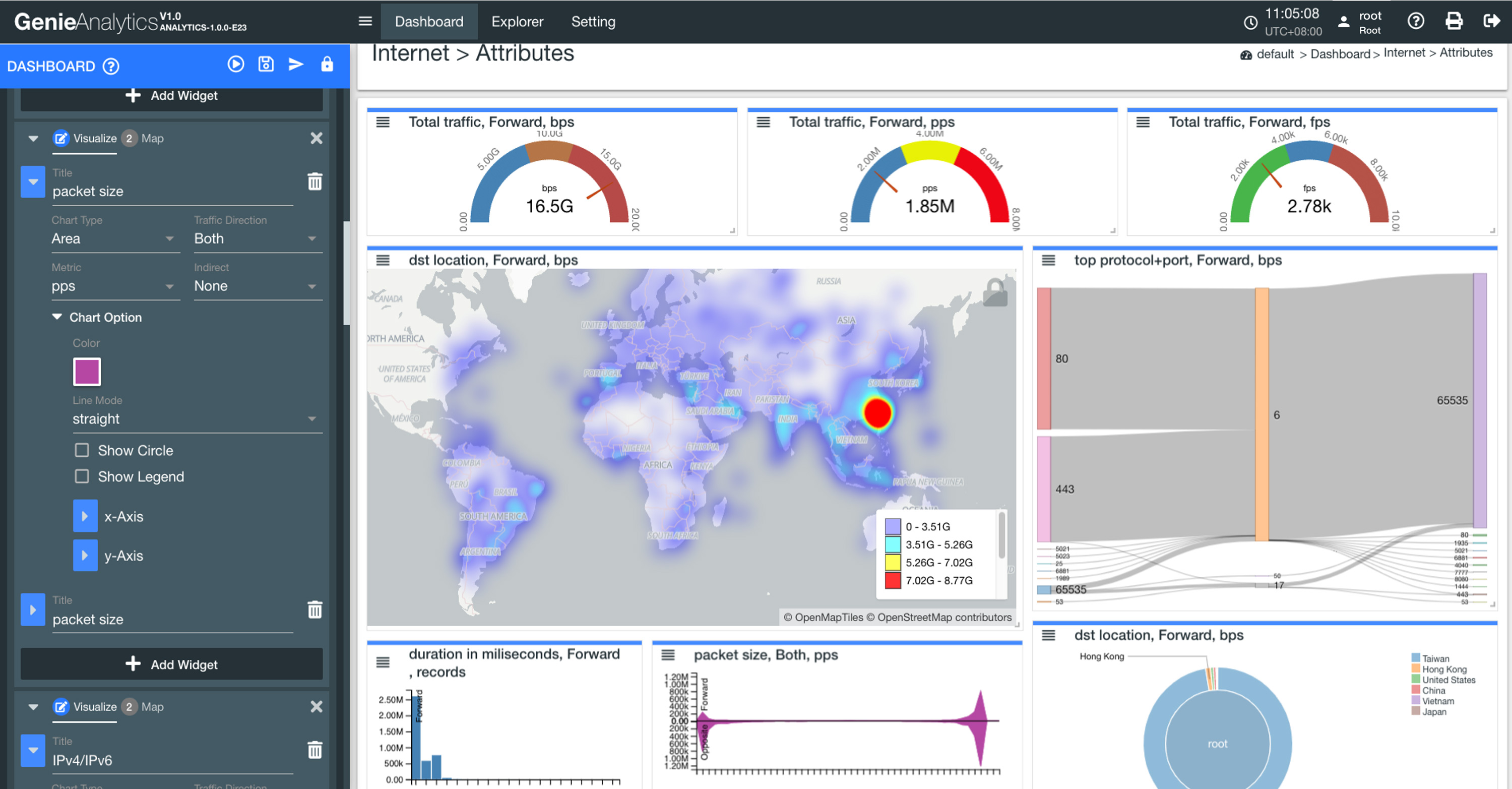 Rich Visualization
The analytic portal of GenieAnalytics is designed to fully leverage the strength of big data driven analytics. Within a few clicks, users are able to obtain a wide range of visualizations of their analytic results based on their operational needs.
Intuitive visualized reports represented in: line chart, bar chart, area chart, Sunburst, Location map, Heat map, etc.
Users can freely build and modify visualized reports in the Analytic Dashboard, while each report can be explored interactively in the Analytic Explorer
Multiple ad-hoc queries with different time settings available on one single dashboard
Ease-of-use data query and each query supports multiple chart types and metrics