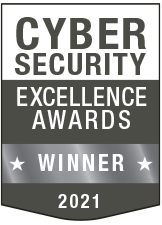 The 2021 Cybersecurity Excellence Awards just announced its winners this week. Genie Networks is proud to be awarded silver in the category of "Best Cybersecurity Company in Asia".
The Cybersecurity Excellence Awards is held annually to recognize companies, products and professionals that demonstrate excellence, innovation and leadership in information security. The awards are chosen by the members of Cybersecurity Insiders, an information security community which consists of over 400,000 industry professionals to honor the world's best cybersecurity products, professionals and organizations.
For the past twenty years, Genie Networks has been providing products and solutions trusted by global tier-1 telecoms and internet service providers. From network traffic monitoring and DDoS security, to big data analytics and managed service enabling, Genie Networks continues to deliver innovative solutions that help drive performance and optimize cost for some of the world's most important networks. The award serves as a recognition of Genie's achievement and competitive advantage in the constant-evolving network security market.
For the complete list of winners of the 2021 Cybersecurity Excellence Awards, please visit: https://cybersecurity-excellence-awards.com/2021-cybersecurity-excellence-awards/.